Skip to Content
Aluminum Awnings-Aluminum Roof
We Install Aluminum Awnings in Miami, FL
At B & G Awnings, we are here to help you build a better outdoor space, whether that's the entrance to your business or your backyard patio. One of our most popular commercial installations is aluminum awnings in Miami, FL. This style of awning is perfect for business storefronts because it has an industrial look and a modern vibe that creates a more professional entrance to your business. Our team will be able to plan, design, manufacture, and install a custom aluminum awning to fit over your door or front windows. Please reach out to us today to learn more about this option or to schedule a consultation for a free estimate.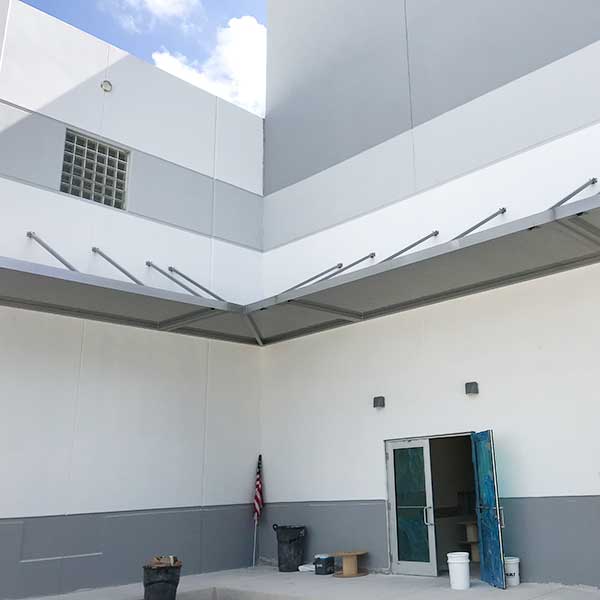 Providing Protection and Style
The best part about awnings is they work double duty. Not only do they add an architectural feature to an otherwise flat and boring storefront, but they also provide much-needed protection from the elements. An aluminum awning will protect your front entrance and windows from blinding sunlight as well as sudden downpours of rain. This addition benefits not only your building, helping to shield it from harsh weather, but also any visitors to your business as they can find refuge beneath it before entering your business. You'll love the added beauty and functionality an awning provides.
Check Out Our Many Styles of Aluminum Awnings
If you're ready to improve the curb appeal of your business, B & G Awnings is here to help with the installation of aluminum awnings in Miami, FL. We'll help you create a unique look to perfectly match the aesthetics of your building and the size of your entrance. With more than ten years of experience, you can count on us to do the job right. Please reach out to us to learn more about our awning options or to request an estimate. We can't wait to help you improve the look of your office or storefront.
Create Beautiful Outdoor Spaces