Skip to Content
Install Shade Sails at You Miami, FL Property
Though the warmth of the sunshine is something we all crave, it can sometimes get a bit harsh in Miami, forcing you inside to recover. At B & G Awnings, we want to help Miami residents stay outdoors while still finding shade from the sun. We offer a variety of solutions to help you create a cool, shaded space, including installing shade sails at you Miami, FL home or business. If you're looking for a cost-effective way to reduce the amount of sunlight on your property, we are here to help. Our team will help you add some fun and function to your backyard with beautiful new shade sails. Contact us today to learn more about this option.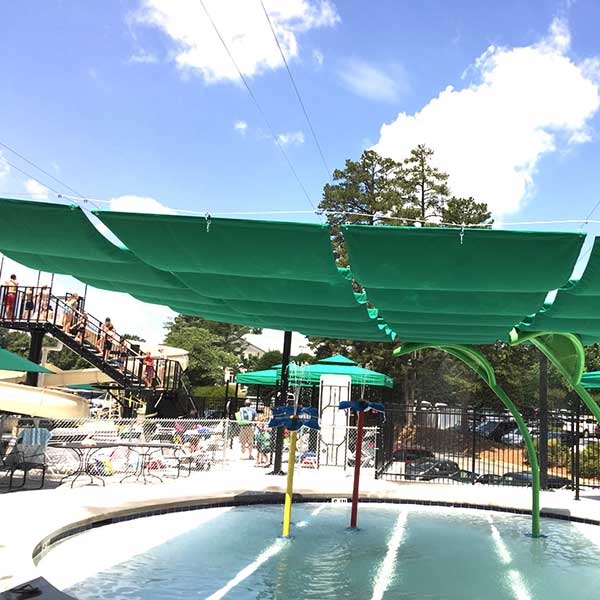 Why Shade Sails Are a Great Option
There are numerous options when it comes to choosing a way to shade your backyard. You could buy a patio umbrella, install an awning, or construct a pergola. B & G Awnings offers many of these solutions as well as shade sails. This option may be the right choice for you if you're looking for a fun and unique way to provide shade while still staying within a budget. Shade sails make a great choice for all the following reasons:
Unique design: With their unique design, shade sails bring an artistic element to your backyard or community pool. The bright colors and beautiful curved designs are sure to make an impression on any visitors.
Good ventilation: Because shade sails are supported by a single pole, there are no walls are other obstacles blocking the breeze. This will allow for ventilation through the area, helping to keep it cool.
Easy installation: The materials used in the construction of shade sails are very affordable and durable. Installation can be done quickly, providing shade immediately upon its completion.
The Perfect Solution for Residential & Commercial Spaces
The best part about our shade sails is their versatility. They can be installed almost anywhere you require some extra shade. Install them at your home over a pool, deck, garden, or driveway. Use them in community parks, splash pads, water parks, and more. Not only will shade sails protect the area from sun and UV exposure, but it will also help to reduce the temperature by as much as 20 degrees, making for a much more pleasant outdoor experience. Please reach out to the team at B & G Awnings to learn more about this option or to request a quote.
Create Beautiful Outdoor Spaces